Get Started
Create a default session
The first thing that you will need is a Project to keep your Session in, so create a New Project and give it a name. It will be given your Account logo by default.
Once you have that you can click on the Project Card to open that Project and now add a New Session, again, give this a name. By default it will be given the Project logo.
You now have a 'New' Session. While it is in new status noone can access it, even if they had the link. The first thing we need to do is add a meaningful Topic to the Session. We do this by clicking on the Session card, which will take us to the Session details.
If you want to change the Session name you can do that from here by clicking on the title at the top. A default Topic has been added for us, but we need to put some real text. As the default Topic says, click on it to edit the text.
A good Topic is usually an Open Question, this is the statment that you will be asking Participants to Brainstorm on, so a Question or Statement that encourages lots of ideas is best.
Now that we have our Topic we are going to add some Invitees and invite them to our session.
Send invites
It's worth noting that you do not have to send invites to run an anonymous brainstorm. You can use the link in the Session box,

which you can either send to people, have them type into their browser, post it onto a video conference comments, or add it to an intranet site or social media feed. Anyone can use the link to join the session.
But if you want to email an invite out to participants you can do that. If you want your session to not allow anonymous access then you will have to send Invites out via the system.
Select the Invites tab. First we will add some Attendees, you can either type in individual names and email addresses in the boxes provided and click + Add, or upload a list from Excel, Column A should contain the Forename, column B the Surname and column C the email address. You can find more detail on Invites here.
With your Attendees added, you can select the Create Invite option. There is default text for this, and by default invites will be Anonymous - this is usually the best way to get maximum ideas. Create the invite and it will appear in the Invites tab.
We can then Send it. At the moment however we have not Started the Session, so if any Attendee follows the link in their Invite they will not join, but be told that the Session has not yet started. If we don't want this, then we can Start the Session straight away.
We need to return to our Session List by clicking on our Project name at the top of the page.

Then, under New Sessions we can click Start for the Session we have created.
This will take us to the Wall for the first Topic in our Session (we only had one Topic). The Session is now Live and 'Unlocked' (the padlock is Open) so any Participants will be able to join and add content. If you want to control when content is added, then you can 'Lock' the Session by clicking on the padlock (this can also be done from the Session card when you are viewing the Session list).
When Locked then Participants can join the Session, but not post content. If they try to do so they will be prompted to wait until told by the facilitator that they can do so. You can Lock and Unlock the Session as often as you like to control to flow of ideas.
Run the session
At this point your Session is up and running and anyone with the link to join can access the Session and post their ideas, these will start to appear on your Wall. You can learn more about the Participant perspective here.
It is worth noting, that as a Facilitator you do not have access to add content to the wall from the facilitator screen. If you also want to add content, then you should open up a new browser tab, or use a different device, and enter the participant link. This will allow you to join as a participant (or send yourself an Invite).
From the wall you can access a quick link to a participant screen by clicking on the Settings Cog, and then selecting Show Link.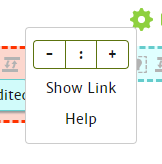 This can also be useful if you have additional people arrive at your meeting and you want to share the link with them to enter into their browser to join. If the session is set to not allow anonymous access then a link must always be sent via email.
At it's simplest level, that is it, you are running your first vWall Brainstorm. There are more details on the settings and options available for Brainstorming here.
Closing and reporting
Once you have finsihed your Session it is a good idea to select Stop from the Session card in the Session list. This will move the Session to the 'Complete' list for easier tracking. It will also stop Participants from accessing and viewing the content. (Of course if you want them to continue viewing the content then you can leave the Session Live).
If you select the Session to go to Session Details, there is a Reports tab that allows you to review your content and export the content in different formats, you can get more information about this here.